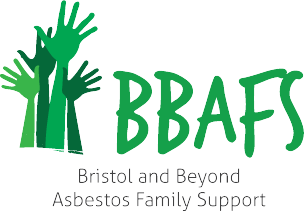 Events



Friday, 28th September 2018 - 11 am
We invite you to join us for an Afternoon Tea at the Cow Barn, Tyntesfield for an enjoyable event. This event will be funded by BBAFS. IT IS IMPORTANT TO LET RACHAEL WILSON KNOW OF YOUR ATTENDANCE BY TELEPHONING 0117 926 1540 BY THURSDAY, 13TH SEPTEMBER 2018 AND ADVISE OF ANY DIETARY REQUIREMENTS.
Mesothelioma UK Night at the Races - Thursday, 18th October 2018 at the National Memorial Arboretum, Staffordshire
For information click on the link Meso_UK_Night.pdf
Mesothelioma UK Patient & Carer Day - Friday, 19th October 2018 at the National Memorial Arboretum, Staffordshire
Click on the link for the day's events and application form Meso_UK.pdf
Friday, 16th November 2018 - 11 am
Cafe at Cadbury Garden Centre, Smallway, Congresbury, North Somerset, BS49 5AA
Friday, 7th December 2018 - 12 noon
Christmas Lunch at The Failand Inn, Clevedon Road, Failand, Bristol, BS8 3TU
Past Events
Friday, 6th July 2018 - 11 am - ACTION MESOTHELIOMA DAY
Cafe at MShed, Bristol Habourside, Princes Wharf, Wapping Road, Bristol, BS1 4RN
Action_Mesothelioma_Day_Article.docx
Friday, 18th May 2018 - Cafe at Cadbury Garden Centre
Patient & Carer Conference 2018 at Bristol Zoo - 5 March 2018
Click on the link below to read a summary of the day's events.
Bristol_and_Beyond_Asbestos_Family_Support_Group_Patient_Conference_2018.docx
Almondsbury Garden Centre Cafe - 26 January 2018
Action Mesothelioma Day at the MShed, Bristol Harbourside - 7 July 2017
Canal Boat Trip - 23 June 2017
Annual Patient & Carer Conference 2017 - please click on the link to read a summary of the day's events
BBAFS_article_-_March_2017.docx
Christmas Lunch at the Glassboat, Bristol - 9th December 2016
Cadbury Garden Centre, Congresbury - 11th November 2016
Park Garden Centre, Almondsbury - 23rd September 2016
MShed, Bristol Harbourside for Action Mesothelioma Day - 1st July 2016
Lock Keeper Pub, Keynsham - 13th May 2016
3rd May 2016 - International Mesothelioma Interest Group (iMig) Conference, International Convention Centre Birmingham (ICC), Broad Street, Birmingham, B1 2EA (for further information visit the iMig website www.imig.org).
7th March 2016 - Annual Patient & Carer Conference, Bristol Zoo Gardens
5th February 2016 - Park Garden Centre, Almondsbury
3rd February 2016 - Whitminster Village Hall, Whitminster (a talk was given by Norman Hindmarch on 'Mindfulness and other Therapies')
Wednesday, 20 May 2015 - Cadbury Garden Centre
Please click on the link below to read about the event and Gerry's talk on 'TOP TIPS for getting the most out of your treatment and care'.
Cadbury Garden Centre - May 2015
Friday, 20 March 2015 - Patient Conference, Bristol Zoo



Please click on the link below to read about our Patient Conference.
Wednesday, 19 November 2014 - Cadbury Garden Centre

We were joined by Anna Bibby, a Respiratory Registrar working with Dr Nick Maskell at Southmead Hospital to talk about research into mesothelioma and upcoming trials.

Friday, 4 July 2014 - Action Mesothelioma Day at the MShed, Bristol Docks

Please click below to read more and look at our gallery for photos.

Action_Mesothelioma_Day_2014.doc
Wednesday, 14th May 2014 - Chew Valley Lake Tea Room
Twenty five people attended this get together overlooking the beautiful Chew Valley Lake. There was a mix of some long standing members who enjoy the continuity and friendship of the group. There were also some attending who have been recently diagnosed with asbestos related illnesses. There is a welcome for everyone at this group. We had a good chance to talk about plans for the upcoming Action Mesothelioma Day. We will be meeting at the MShed in Bristol as usual, but this year, we have something a little different planned to mark the day! All those affected by asbestos related diseases are welcome to join us.

Friday, 14th March 2014 - Patient Conference - Bristol Zoo

Please click on the link below to read the notes of our Patient Conference.



Patient_Conference_2014_articles.pdf
Friday 15th November 2013

– Cadbury Garden Centre
Almost 40 members attended what has become an annual pre-Christmas get together at Cadbury Garden Centre in Congresbury on 15th November 2013. The Garden Centre kindly provided us with a function room off the main, buzzing restaurant. We enjoyed a lovely day of chat, shopping, coffees and lunch. Our youngest member was 5 months old and our oldest was over 90! Lots of generations chatted and exchanged experiences. We sold badges for Mesothelioma UK and through the sale of badges and Christmas card orders and other donations we were able to send a cheque for £106.50 to Mesothelioma UK at the end of the day.
Friday 20th September 2013 - The Bishop's Palace and Gardens, Wells
Members met in the cafe for a much welcomed coffee and chat. We welcomed new members and their families to the Group and it was clear from the age range of people at this meeting that mesothelioma and asbestos related disease affects people from all walks of life and of all ages.

It was a perfect day to then take the opportunity to go on the prearranged private guided tour of the beautiful gardens in the September sunshine, which was followed by a fascinating tour of the Palace. Our tour guide was blown away by one of our member's knoweldge of the use of papermache to replicate antique wooden panelling in the Palace.

We then headed back to the cafe for a social lunch.

Take a look at the pictures taken of some of our members at the Bishop's Palace and gardens in the Gallery section.

Friday, 5 July 2013 - Action Mesothelioma Day, MShed, Bristol Harbourside
On Friday, 5 July BBAFS marked the 8th annual Action Mesothelioma Day. This is a day which is marked nationally as a day to promote awareness of the dangers of asbestos and to raise funds for Mesothelioma UK.
In Bristol members of BBAFS met at the MShed Café in record numbers. It was heart warming to see how in three years numbers have grown from 15 at our initial support meeting to at least over 60 at this event.
We were honoured to welcome Peter Main, the Deputy Lord Mayor who spent a couple of hours with members talking to them about for some, where they had been exposed to asbestos through their work as well as to family members who had lost loved ones.
Some members chose to personalise their balloons with messages for those they had lost.
Our most senior member, Frank Turner, spoke movingly about his shock when he was diagnosed with mesothelioma and how he had felt alone. He said that for him the support group has been like a family to him and he is grateful for the friendship and warmth and company that it provides to him. Frank Turner particularly thanked Sarah Smith, our Chairman, who is the Specialist Lung Cancer Nurse at North Bristol NHS Trust for her help and encouragement as well as Isabelle Selley, his Solicitor, who he said had opened up other avenues of assistance for him.
After Frank had spoken we released our 60 balloons into the brilliant sunshine over Bristol Harbour, our thoughts with those no longer with us, those suffering from asbestos related diseases and our hopes for more awareness of the dangers of asbestos and breakthroughs in treatment for this disease.
We raised a magnificent £500 which will be donated to Mesothelioma UK. Lots of pictures were taken which we have put in our gallery. Please also click on this link to see the report in the Bristol Post.
http://www.thisisbristol.co.uk/Balloon-tributes-asbestos-victims/story-19489286-detail/story.html#axzz2YX3UyGag
Friday, 17 May 2013 - Whitehall Garden Centre, Lacock, Wiltshire

We enjoyed a sunny day at Whitehall Garden Centre drinking coffee, socialising, eating lunch and wandering around the Garden Centre.

Friday, 8 March 2013 - Patient Conference at Bristol Zoo Gardens

Summary_of_Patient_Conference.doc
Friday, 16 November 2012 – Cadbury Garden Centre, Congresbury
Members met in the cafe for coffee and a chat, we then had free time to browse around the Christmas shop and returned to the cafe for a social lunch.
14 September 2012 - The Walled Gardens of Cannington
Members enjoyed a fascinating talk and tour from the Head Gardener and we were lucky to experience the rare autumnal sunshine. Do look at the beautiful pictures of members enjoying the gardens in the Gallery section.
6 July 2012 - Action Mesothelioma Day - M Shed, Bristol Harbourside
Bristol and Beyond Asbestos Family Support met on 6th July 2012 to promote Action Mesothelioma Day. Action Mesothelioma Day is a National event aimed at promoting awareness of the ongoing dangers of asbestos. The event was held at the M Shed, a new Harbourside museum celebrating Bristol's industrial past. Fifty people assembled to remember loved ones affected by asbestos and to raise funds for research. Money was raised through a sponsored balloon release in memory of loved ones. The funds have been donated to Mesothelioma UK which is a national resource centre dedicated to providing specialist mesothelioma information, support, improved care and treatment.
2 May 2012 – South Glos and Stroud College (the old Filton College)
Invitation from the students and staff to meet at the College for coffee and socialising and to launch this fabulous website. Thank you to the College for hosting the event and The Smarter Web Company for their design work which they have provided free of charge.
5 March 2012 – Bristol Zoo Gardens
We gathered in the Clifton Pavilion at Bristol Zoo where Liz Darlison, Macmillan Nurse Consultant from Mesothelioma UK and University Hospitals of Leicester NHS Trust gave a talk entitled 'Mesothelioma Latest Thoughts'. Maggie Baker, one of our members spoke with her husband, Alan, about their recent trip to Australia and provided us with lots of practical tips about travelling with Mesothelioma. Both these presentations can be viewed in our 'News' section. We had a brief AGM, lunch, time to socialise and free time in the Zoo Gardens.
18 November 2011 – Cadbury Garden Centre
We met for a coffee, Christmas shopping, enjoyed lunch and a chat.
1 July 2011 – Action Mesothelioma Day – Bristol Harbourside
This was to mark the National Action Mesothelioma Day with a walk along Bristol Harbourside, a balloon release which was photographed and published in the Bristol Evening Post, lunch and time to chat.
18 May 2011 – Bristol Zoo Gardens
This was our inaugural meeting. Sarah Smith, Lung Cancer Specialist Nurse at Southmead Hospital, and Lois Phillips, Thoracic Cancer Nurse Specialist at Bristol Royal Infirmary were in attendance. Introductions from everyone were made and Sarah gave a talk about recent treatments and trials in this area.